The DACA book is on the BlookSpace!
Through the books we give you a gethering of diffrent tweets ( reactions ) that allow you to read up on any subject anytime and anywhere.This way, you will be able to share diffrent ideas to your community.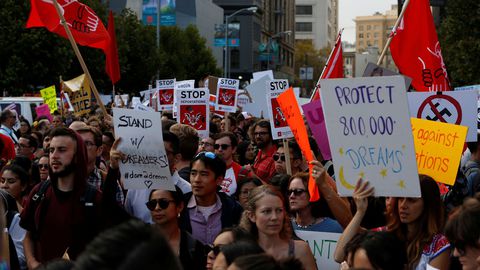 This Tuesday, the supreme court is set to hear the legal challenges of the president of the united States Donald trump. Thus, they will decide what to do about DACA recipients. 
The deferred actions of childhood arrivals has been implemented by his predecessor Barack Obama. Currently, it shields 700.000 undocumented immigrants who came to the United-States as children from deportation. Today, they contribute to life and the economy in the country. 
This is a turning point for DACA recipients or also called DREAMERS as they fight for their possibility to stay on the United-States territory. To remember this moment, you can save the tweets of this book by printing it through our social media Platform.
You can also put up your books for sale by logging into our platform's public Space called the BlookSpace.
Through it, you can post your work and even put up for sale for your community! A different and fun way to share your ideas !in a paperback book!