The BlookUp Team had the pleasure to exchange with Minh-Tho, who has realized a book based on her blog and has agreed to share her opinion with our community. She tells us everything about he printing of her pretty blook !
Tell us about you 
My name is Minh-Tho PHAM. I have a master's degree in marketing-communication-advertising since october 2014, and I am currently studying to become a web writer.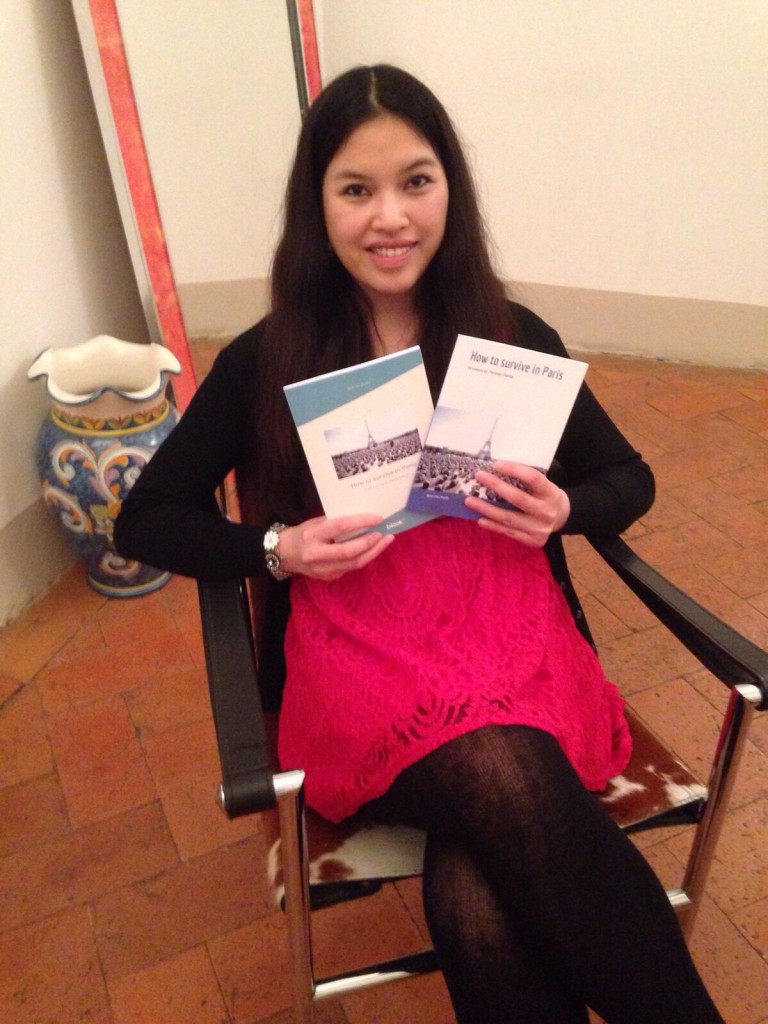 What is your blog about?
« How to survive in Paris » is a generalist and eclectic blog about the parisian life and other subjects that I care about. Its particularity is that it is written in english and read by internet users all around the world. I'm passionate about creative writing, and I'm the author of around thirty poems and novels. My poems are the metaphorical expression of my emotions at a time, or causes that are close to my heart. My novels are mostly romantics and have generally a connection to Paris.
Why did you decide to print your blog?
My poems and novels are unique creations and I wanted to keep a material track of my writings. I've chosen to print a collection of 18 poems, and another collection of 16 novels just to enjoy having them in the form of a book and to share them with my family and a larger audience.
How did you know BlookUp?
The idea to make one or several books from my blog has been running through my mind for several months. I just made a research on the internet and BlookUp was one of the rare websites to be compatible with my WordPress platform, so I've decided to take the plunge.
What are the good things about BlookUp?
The copyrights belong to the author of the blog which the book came from. You only pay for the copies you wish to purchase. The import of the blog datas is quickly enough and the creation of the blook is very easy. You create yourself your biography, your cover photo and back cover. You have the final say about the creation of your blook from the start until the end of the process. Finally, you can choose to make your blook public and sell it on the BlookShop of BlookUp, you can set your selling price and so the margin you're going to get for each sale of your blook.
What are the downsides about BlookUp?
You can't adjust the pictures or change their size. When you create your blook, if your blog is too big you have to select each post from the beginning, which can be tiresome.
What do you think about the making and the organization of your blook?
The making and organization of the blook can be easy and quick, if you only have one photo per article and a blog that's not too big, ideally around fifteen articles. The preview of the final result is also a great help when you make your blook.
What do you thing about your final book ?
I'm very happy to have material copies of my favorites writings. The printing of the pages is very clear and beautiful, it gives a satisfying result. The cover photo I've chosen is a little bit pixelated, but aside from that, there's nothing wrong. The books are beautiful, lights and you can take them wherever you go !
What's the opinion of your relatives?
My relatives support me and ordered several copies. They are happy that I get to realize a project that I care about.
Why did you decide to make your blook public in our Blookshop? What do you think of this option that we offer?
I wanted that my book could be ordered by an audience as large as possible. Having your blook online gives it more credit and gives a professional aspect to the sale. Furthermore, you get to choose the price and the margin you're going to get on the sales of your blook. So it's a win-win !
Thanks a lot to you Minh-Tho for sharing your opinion with us ! You can also buy her blook "How to survive in Paris" in our BlookShop right here.