Whether you are a blogger in your spare time or a confirmed blogger, even a professional blogger, BlookUp gives you the opportunity to transform your blog into a real book, laid out and printed.
Print your blog? What for ? There are many good reasons to print your blog book. Here are the main ones :
1 – Save your production
The news has just reminded us, we are not immune to a computer bug that would erase our blogs. Unfortunately, we cannot know what will happen to blogs in 5, 10 or 20 years. By then, a lot of data may have been deleted.
2 – Nothing better than a printed paper book
Having the content that you patiently wrote with passion in your hands is so exhilarating! Give it a try! When you receive your blook, start flipping through it, touch the paper, feel the pages turn under your fingers and your images scroll before your eyes… you will say to yourself, "why didn't I do it? earlier " ?
3 – Real tool to enhance your work
Printing your blog also allows the author to rediscover their blog in another way. Very rare are those who take the time to delve into their archives, which are full of old photos, stories and other memories. You will realize all the writing work accomplished during a year, even a lifetime.
In a book, you rediscover your production, you reread your articles, you relive your most beautiful memories in pictures!
You value your production with pride and admiration and you create a necessarily unique book. Because making your blog book is a mini event, it's making YOUR book. By making their blook, bloggers make an act of creation, they personalize their cover, their layout, they give life to a material work, to a transmittable work certainly often modest but dear to them and to those around them: Because the content of a blog is often intimate, very personal, it concerns a family, it requires investment, passion, time to write, post, support your blog or your social network.
The more time they spend there, the more their authors want to keep a written record of it. There is something almost immortal in this act of re-materialization of their life which has become very (too) digital.
4 – A beautiful object in your library
Having your book at home, in your library or in the living room table, it is practical to reread your posts at any time and to transmit your memories and anecdotes live, well seated on the sofa! In short, it's more practical than browsing your blog on a tablet or computer. Just reach out to grab your memories of travel or the birth of your child!
5 – Share your work with everyone around you!
Pass the book to your friends and family and see how they go through the pages. All of this is concrete, your loved ones are touching the fruit of your work and it speaks to them more. And then your parents or grandparents may not be very "geeks" and they do not understand what you are doing behind your screen. For them, BlookUp offers THE solution: offer them your blook as a gift!
6 – And why not sell it?
Your book may have a market value because its content may interest readers. With BlookUp, after seeing your book made on our platform you can make it public and put it on sale on the site's online store, the Blookshop. You set a price and invite your friends to come and see it on BlookUp and buy it online. Perhaps the beginning of a career as a budding writer!
Also print your Facebook and Instagram accounts!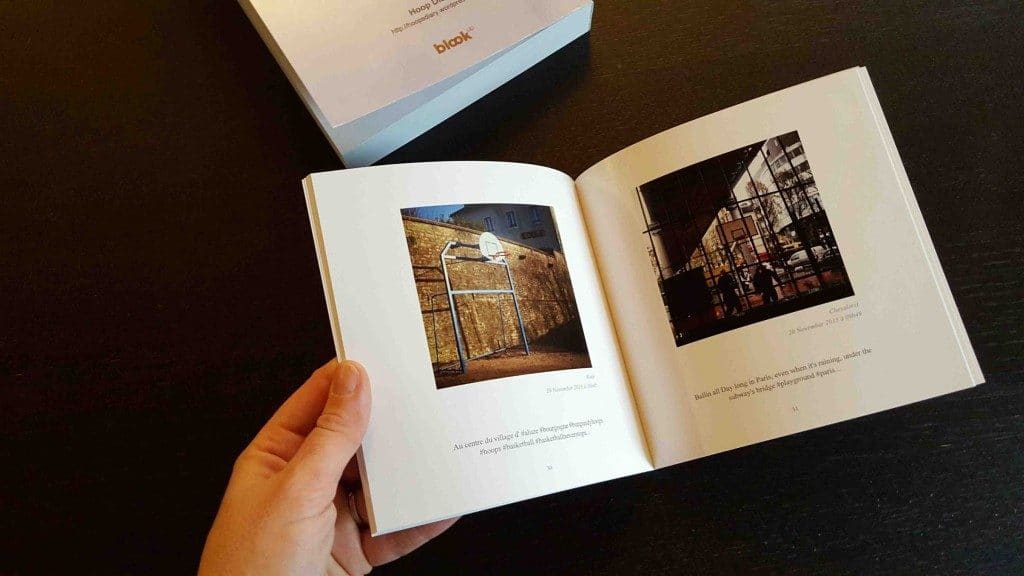 You don't have blogs, you can also print your Facebook or Instagram. Social networks have replaced diaries: People like to tell their lives, their favorites, their passions and express the need to share every little moment of life. And while we are spending more and more time feeding digital accounts, BlookUp proposes to do the opposite: Rematerialize our virtual content to transform it into paper books.
The Facebook book is available in an exclusive format (20 × 26 cm) and offers 2 types of interior layout (2 or 3 columns). You choose the publication period you want to import. BlookUp takes care of automatically importing all the content published on your Facebook account (status, photos, videos, places visited, comments …) and you can then choose to keep only a certain type of content, several or all together, as well as the number (limited depending on the density of your page) of comments to display!
For Instagram, it's the same! You can choose the photos to keep and the period to sleep on paper. Your book will then be printed in a beautiful square format (15x 15 cm) to highlight your most beautiful shots!