Are you an avid mountain hiker or a more casual one? Either way, you cross on foot or bike the most beautiful reliefs and you want to keep an original souvenir of your prowess?
Turning your best hikes into a 3D map is what the Spanish startup Nice Trails offers you. And we share the discovery with you this week!
This startup offers a revolutionnary solution to print a 3D model of a moutain excursion that you have done. All accompanied with nice reliefs that show you the altitude you have climbed as well as the achievements you have accomplished!
The idea came from the founder who thought that the path shown on a paper map does not convey well the remarkable character of physical prowess and exertion.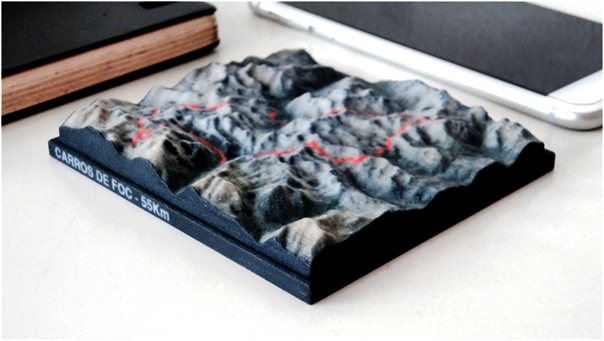 This is much better than a Michelin map!
How does it work?
You send the GPS coordinates of your hike to the web platform, preview the 3D object representing your path – drawned in a bright red line along the relief you walked. Then you confirm your order to send it to a 3D printer. 
The object arrives at home only a few days later. It's now up to you to use it as a paperweight, to frame it and hang it on a wall, or leave it on the living room coffee table like a trophy!
Nice Trails features 3 diferent print sizes and price ranges from 99 to 249€ (around $111,48 to $280,40). A good way to immortalize the hikes of your life, just like BlookUp allows you to re-materialize your digital content in a real paper book. It's so amazing to see how the concrete objects that you can hold in your hands still have a bright future ahead of them!