It's getting cold and it's not really the time to talk about fresh water anymore.
But some of you may be waiting for one thing !  Summer, and its 36 ° C in the shade! So before talking about snow, christmas trees and winter wind, we'll do one last little favor to summer fans by making you do a small tour of the Municipal Library of Cincinnati!
Contrary to what its name indicates, Cincinnati is not located in Italy (However, the name is Italian, in hommage to the Roman political figure Cincinnatus). But in the United States, in the state of Ohio.
There are many beautiful things to see in Cincinnati but today we will stop at this beautiful fountain, just in front of the Municipal Library !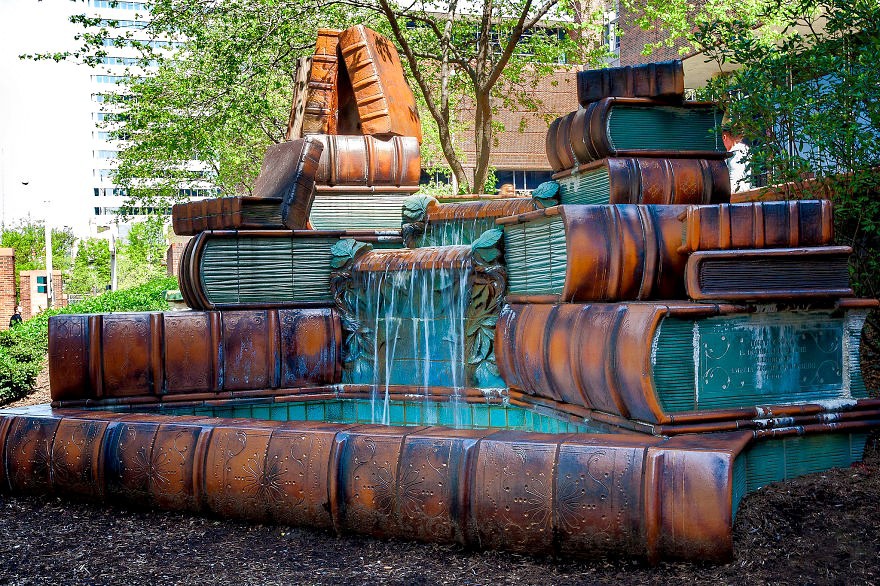 Photo credit: Jean-François Schmitz
_________________________________
Soberly named "Book Fountain", this monument is actually a sculpture of books made of concrete covered with fired clay ! All stacked on each other, through which water flows as would a waterfall do. According to the artist-sculptor Michael Frasca, the flow of water through the books represents the free flow of ideas and information through writing and literature.
Very popular with tourists and students from frequently pose or sit near it. The fountain is also a memorial dedicated to Amelia Valerio Weinberg. She  died in 1982 and who bequeathed money in order to build a fountain for the Municipal Library !  Her wish finally came true 8 years later, and in the best way possible!