People have
their own way of reacting to politics. In fact, 
some get angry, some start lecturing others, some don't seem to care all that much, and
some choose to make fun of it.
Donna Troy
falls into the latter category!
_____________________________________
Tell us a little bit about yourself : Your passions, your hobbies, your projects…

I work in payroll and that's very boring.  In my spare time, I like to write, obviously.  I like to crochet and I have an Etsy shop where I sell my crafts.  I also enjoy yoga.

What is your blog about and why did you want to address this subject when starting it?

My blog
has been mostly about making fun of politics in the U.S.  It was my brother's idea to start the blog.  We were emailing back and forth during the 2016 election and he decided the stuff I was writing would make a good blog.  I didn't know what I was going to do after the election, but then Trump won so there has been plenty of material.
What do you like the most about blogging?

I enjoy making people laugh and having an outlet to make light of things that are troubling.

What part of your blog are you the most proud of?
I think I'm most proud of how my work has progressed from the time I started
the blog
until now.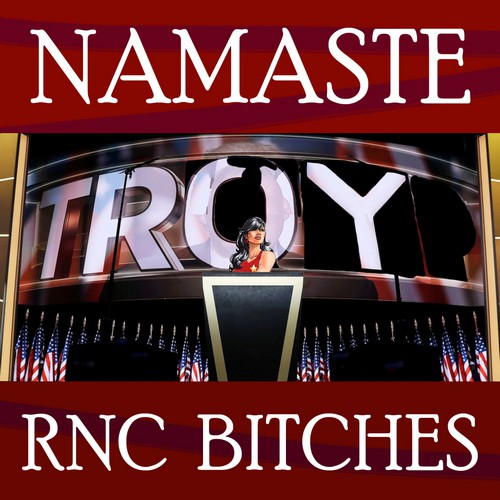 Why "Namaste, Bitches"?

That started as an inside joke with my friends.  We were all leaving work one night and everyone was talking about what they were going to do that evening.  I said, "Well, I'm off to yoga.  Namaste, Bitches."  When I began
the blog
I didn't think anyone other than my friends would be reading it.  Namaste, Bitches just kind of stuck.
Why did you want to turn your blog into a book?

I did that for my parents.  They aren't technically savvy and my brother was sporadically printing out blogs for them to read.  Again, it was my brother's idea to get
the blog
turned into a book.
How did you find out about BlookUp?

I found it with a Google search.  I tried a few different sites before I settled on
BlookUp
.
What did you think about the making process of your blook? Did you encounter any difficulties or issues ?

I enjoyed using 
BlookUp
. BlookUp was the most user friendly of the companies I tried.  I liked that I could preview the layout for each blog after editing.  The other companies didn't have that option.  Uploading the images was also much easier with BlookUp.
Do you enjoy the final result? What does your family and friends think about your blook?

I loved the final result.  As an avid reader and writer, it gave me a little thrill to see my work in book form.  My family and friends loved it as well.

Would you recommend BlookUp and/or use it again in the future?

Yes to both!

____________________________
Huge thanks to Donna Troy for this interview! Don't forget to check out her blog if you want to have a good time and follow her on social media: