Use this menu to easily find answers to your questions!
Before you start
Prices and quality
Importing Data
Content and personalization of a blook
Orders
Sharing and selling blooks
Before you start
How do I prepare my blog before I import it on BlookUp?
If you want the creation of your blook to be only a matter of minutes, we recommended to bring the changes to your blog first.
Before starting the import (or getting your .XML file), you must make sure that all the contents you want to see in your blook are already appearing on your blog as you want them to be. Check your orhtograph, categorize your articles, import new photos or replace them by ones of better quality if necessary...
To learn more about the customization options available in our online tool and in order for you to save time in achieving your blook, read the "Content and personalization of a blook" part of this Q&A section.
You will need to set your blog on "public" mode in order for us to import your data. Don't worry, it will onlly take a few minutes, then you can make it private again!
How much time is needed for the realization of my Blook?
To realize your blook quickly, we also recommend that you carefully read the informations displayed here: How do I prepare my blog to import it on BlookUp ?
After you made all the modifications you want and/or need directly on your blog, we will import your contents and automatically transform them into a book within a couple of minutes (1 to 10 minutes depending on the the blog's weight).
I have not finished my Blook yet, could I get back to it later?
Yes, you can modify your blook any time!
BlookUp saves your modifications every time you click on the "save and continue" button (when you are logged in to your account and have already generated your blook once) or at the last step of the customization, when generating the preview of the blook (when you create a blook for the first time and BlookUp asks you to sign in to your account or create one).
You can preview and make changes to your blooks (only if you didn't order them) by clicking on the My Account link at the top right of our site.
How long will you keep my blooks?
Non-Ordered Blooks:
- Will be deleted only the blooks that reached the 3 months (90 days) limit without being edited
- Any modification (new cover, change of title, modified article, etc) will restart the 3 months period from the date of the modification
- The date of last modification is displayed in the blook's informations, alongside the creation date.
Ordered Blooks
- Blooks ordered at least once are always kept for 3 years and are definitively deleted after this period if they have not been ordered again
- Any new order of a blook will restart the 3 years period from the date of the last order
- The date of the last order is displayed in the blook's informations, alongside the creation date
You will receive an automatic mail 7 days before the suppression of the blooks in order to warn you of the remaining time and ask you to modify your book if you wish to keep it longer!
Prices and quality
What is the price of a blook?
Our blooks are made according to the latest technology in digital printing processes. The paper weight of the innrt pages ranges from 115 g/m² to 135 g/m², covers are 300 g/m² with adhesive binding.
Blooks are limited to 400 pages (300 for Instagram books) to ensure they will be as solid as possible and their price will primarely depend on the number of pages composing them:
FORMAT (CM)

FORMAT (INCHES)

24 FIRST PAGES

EXTRA PAGE

PAPER

COVER

PAGES MAX.

15 x 21

5.9 x 8.3

9€ (9.90$*)

0.16€ (0.18$*)

115g/m²

Soft or hard, matte finish

400

14,8 x 21 (A5, PDF)

5.8 x 8.3 (A5, PDF)

Softcover, matte finish

20x20 (Instagram)

7.9 x 7.9 (Instagram)

135g/m²

Softcover, matte finish

300

20 x 27

7.9 x 10.6

0,35€ (0.39$*)

Soft or hard, matte finish

400

20 x 26 horizontal (Tumblr)

7.9 x 10.2 horizontal (Tumblr)

Softcover, matte finish

19 x 26 (Facebook)

7.5 x 10.2 (Facebook)

Soft or hard, matte finish

21 x 29,7 (A4, PDF)

8.3 x 11.7 (A4, PDF)

Softcover, matte finish
| | | |
| --- | --- | --- |
| EBOOKS | €3.90 ($4,62*) | PDF, EPUB, MOBI formats |
*price may vary depending on the current value of the dollar
/!\ Discount prices can be offered for multi-book orders (from 3 or 4, depending on the number of pages).
Shipping costs:
| | |
| --- | --- |
| < 100€ (111.70 $*) ORDER | > 100€ (111.70 $*) ORDER |
| 6,90€ (7.59$*) | Free |
*price may vary depending on the current value of the dollar
What are the shipping delays?
COUNTRY OR REGION

TRANSIT TIME

EXPÉDITION METHOD

TRACKING

Métropolitan France, Belgium, Luxembourg, Netherlands, Germany

10 labor days




Colissimo (postal shipping)





Yes (automaticaly sent by email)

Europe

12 labor days*

Africa / Asia / Latin America / North America / Middle-East / Pacific / Rest of the world

15 to 18 labor days*
*Delivery times for certain locations within these destinations may vary from 24h or more
Deadlines are estimated as follows:
- Required production time, binding, drying (3-4 days for softcovered books, 4-5 days for hardcovered book)
- Transit times inherent to the shipping methods (48h to 72h approx. for Colissimo and DHL)
- Possible customs checks (for outside Europe shipping)
Working days don't include week-ends and days-off (all countries are concerned).
How do I optimize the price of my blook?
Several settings may affect the price of your blook, but you have control over some of these settings and can use them to get a paper book in accordance with your budget!
In order to adjust the price of your blook, you can, for example:
- Choose to remove some articles from your blog
- Modify their contents, text or images, in order to shorten them
- Choose a smaller images size
- Remove page breaks after each article
What will my photos look like?
BlookUp always retrieves your photos from your blog's source code, in the best quality possible to find. Sometimes, however, some differences may appear between the photos you possess on your computer, those you posted on your blog(s) and the photos printed on paper. Three things can be the cause of these differences:

1) Screen calibration and edited photos: A single photo, or even the same color, does not always come out the same way on every screen due to the screen calibration, which is set directly on the screen or via the internal options of the computer. Some options saturate colors, others reinforce the contrasts, giving the impression that the pictures were naturally taken this way.
You can remedy this by printing a test photo at home on the printer connected to the computer containing the images to see the difference between the digital and paper format. Then you can edit the photos through an editing image software in order to match your expectations, or directly recalibrate the screen and / or resetting its parameters.
2) Impression: In case of a printing problem depending on human error and / or rectifiable (content printed on top of the photos, blurry photos, striated or stitched colors, drooling colors, etc ...), BlookUp guarantees, on presentation of photos as proofs, a free and fast second shipment of your blook as it must stand out according to the version you validated. However, color distortion may occurs when switching from the RGB format (calibrated for web display) to the CMYK used for paper printing. It should also be taken into account that current printers can sometimes render the same book in several different ways, depending on certain variables such as the last machine cleaning, toners changes (colors), printing time, etc... These rendering differences are inherent to current printing techniques and will improve in the future, and if given the opportunity, BlookUp will of course propose to you to improve also the rendering of your blooks.
- Learn more about the difference between RGB and CMYK
3) Image quality and resolution: In the same way it can be difficult to see the right colors according to the screen, it is sometimes difficult to ensure the quality of the photos posted on a blog when they were shrinked automatically and therefore seem quite correct in a small format. For example, a picture of 100*100 pixels equals 2.65*2.65 cm (1 inch). This format can be perfectly suitable in an article as long as the image is made to be seen in this small format, but if when importing your blog you chose to display the images as "large", they will be stretched to match this choice (going, for example, from 2.65*2.65cm (1 inch) to 10*10cm (3,94*3,94 inches)) and therefore appear pixelated on paper.
To prevent these problems, it is recommended to work with large pictures of good quality, without forgetting to compress them in order for your blog pages to load quickly!
- Learn more about image compression
- Learn more about the size, resolution and tips related to web / paper pictures
Importing data
I can't find my blogging platform on your site: what can I do?
To create your blook, your blog must be part of our platforms and compatible files (see the official list displayed at the time of the import):
BLOGS

RESEAUX SOCIAUX

FICHIERS

- Wordpress (.com and .org)

- Blogger / Blogspirit

- Canalblog

- Overblog

- Tumblr

- Skyblog

- Haut et Fort

Facebook

Instagram

.XML

.PDF
If you come from another blogging platform, it is still possible for you to transform your contents into a blook:
- Your blogging platform allows you to retrieve your blog in .XML format and you can try to import your file here.
- You have the possibility and the time to copy and paste your contents in a text editor (Word, Open Office...), in order to layout them yourself and to transform them into a .PDF file. Some online tools like DocumentCyborg can help you convert web pages into text or .PDF documents in order to save you time. You can then upload your .PDF on BlookUp!
What permissions does BlookUp need to import my blog?
BlookUp adapts to the settings poposed by each blogging platform's API: Some of them allow to ask for reading permission (getting access to your contents in order to import them) without asking for writing permission (publishing posts on your behalf), and some of them don't. In this case, BlookUp has no choice but to obtain the writing permission in order to also access the reading permission.
BlookUp vows to never use the writing permission to post on your behalf on your blog or social media, as stated in its Conditions of Use.
I cannot import my blog on BlookUp, why?
Several reasons can lead to import issues, and they often depend on the blogging platform you have selected. Here is some help for the most common problems:
- ALL PLATFORMS: Check the URL of your blog when you need to indicate it. Only a public and complete link (for example: https://www.blookup.com/en/blog/) can work. Then check that your blog credentials (username and / or e-mail, password) are correct (active account and / or related to the good blog)!
- WORDPRESS: First, you have to set your blog on public mode so that we can import the data (and especially the pictures). You can set this mode temporarily, until the import of your data is complete, then put your protections back very quickly!
If you do not want to remove your protections, you can also retrieve your blog as an .XML file (click here for instructions) and import it but be careful! If certain media are inaccessible (images, in particular) for some reason while we try to retrieve them, they can not be imported into your book, even through this means.
- BLOGGER: Blogger now belongs to Google and is therefore linked to Google Accounts via Gmail. So, if your Blogger account is separated from your Gmail account and you're logged into your Gmail account, our tool will automatically sign in to Blogger with your Gmail account and therefore won't find any associated blog. To solve this issue, you just need to log out of your Gmail account before importing your blog (you will then see the login window where you can enter your Blogger credentials), or link your Blogger account to your Gmail address.
Your Blogger Blog feeds may also be disabled. To correct this, you need to go into your Blogger administration, then click on "Settings", "Other", "Allow blog feeds" and choose "Full" option. Once done, all you have to do is save the changes and you can create your blook on BlookUp!
I created new contents on my blog, but they do not appear in my blook, why?
BlookUp imports the contents of your blog at a given moment and won't communicate with it again in the future. If you wrote new articles or added new contents and you want them to appear in your blook, you have to import your blog again and create a new blook.
Content and personalization of your blook
Does BlookUp take care of layouting and proofreading my blook?
No. BlookUp is not a publishing house, it is a service destined to process, sell and distribute digital contents in the form of paper books. We do not have any resource dedicated to proofreading, designing and shaping each blook individually, but rather offer an online tool configured to allow you to personalize your blook with maximum autonomy!
Our customer service is here to help you when you can't find an answer to your questions or if you encounter a technical bug during the creation of your book.
Will modifying my blook also modify my blog?
No, your blook is independent from your blog and you can make all the changes you want without the fear of loosing yout original blog content!
How can I customize the layout of my blook?
Each blogging platform will have its own unique customizing features. Some platforms will allow you to import comments or edit your content, others won't: For example, Facebook contents can be selected only by type, while blog contents will be individually editable.
Some options will be the same for all platforms but will not appear at the same place in the creation and the personalization of your blook. In order to discover the options available for your blog, take the time to read every step of the customization! Here is an example of common customization you can perform on most blooks: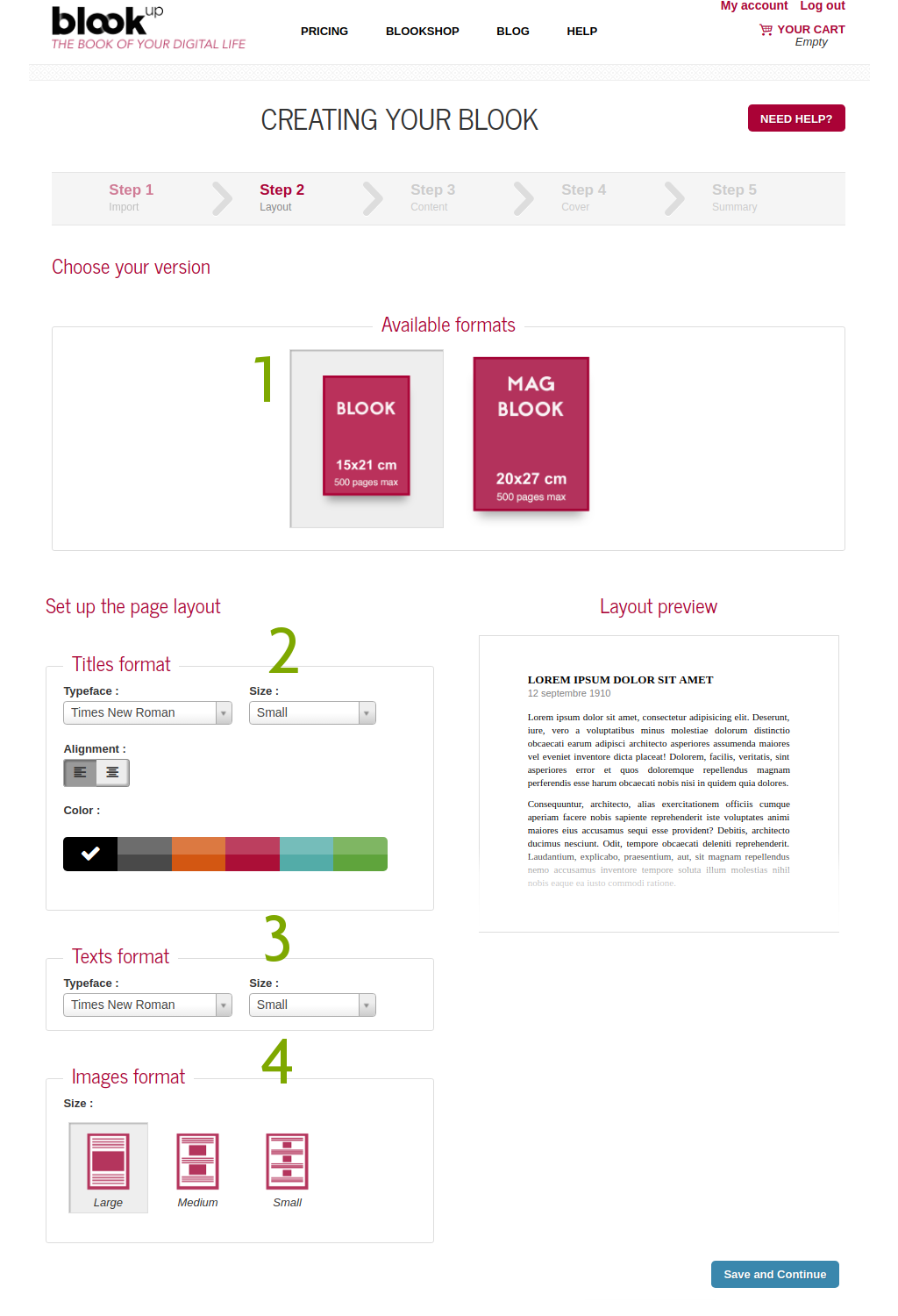 1. Choose the printing format. When available, this choice influences the price of your blook.
2. Choose the appearance of your titles: Font, size, alignment, color. The size influences the price of your blook.
3. Choose the appearance of your texts: Font and size. The size influences the price of your blook.
4. Choose the size of your images. The choice affects the price of your blook. Warning ! This option is FIXED and will affect ALL your images.
Can I change the order of my articles or delete some of them?
The "Sort Your Content" section allows you to select (

) the items you want to appear in your blook or not and reorder them by clicking on the icon

and moving them where you want them to be displayed in your list. You can also sort your articles by categories: Select "Show your categories in the blook" in "More options". This option allows you to easily delete or organize multiple items by selecting or dragging an entire category.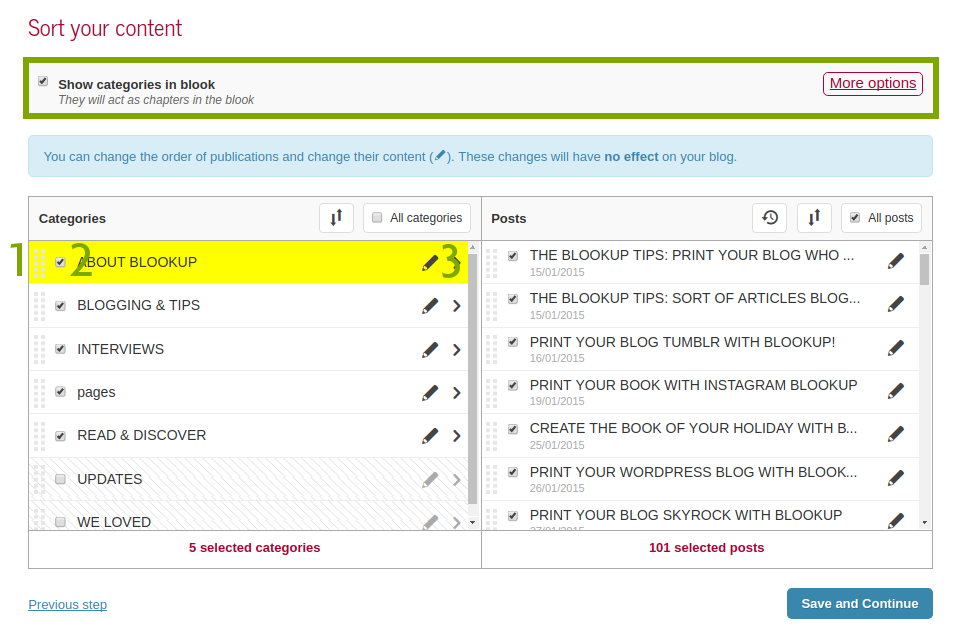 Can I change the content of my articles via BlookUp ?
We highly recommend to make all necessary modifications on your blog before importing it; However, it is possible to change the title and content of your articles (when the blogging platform is compatible): In the "Sort your content" section, click on the pencil (

) in front of the article you want edit.
The content editor will then open and you will find the "text" and "source code" versions of your article, like in most blog text editors. Both will allow you to modify your texts and images.
Can I modify the images in my publications?
You can decide to delete a photo:
- By placing the mouse cursor on the right of the image and by hitting the "Backspace" (
) key on your keyboard.
- By clicking on the image and pressing the "Delete" (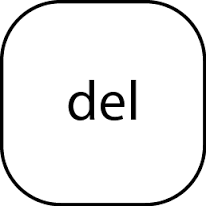 ) key on your keyboard.
- By clicking on the "Source" button visible in the article modification window, locating the tag linked to your image and deleting it entierely.
You can also move a photo:
- By clicking on the image, dragging and droping it where you want it to appear in your article.
- By clicking on the "Source" button visible in the article modification window, locating the tag related to your image and cutting / pasting it where you want.
Click on the images to see how how to spot your image tag in order to delete or move it!
You can not :
- Change the size or the alignment of your photos individually.
- Add new photos.
Why some layout options won't work?
As BlookUp works mainly to transpose web content (and intended to be read via this means) in paper format, its main obstacle is to be able to transform these contents made from programming languages of different natures into printable material.
Improvements are possible and are being studied every day by our team in order to make the personalization of the blooks more flexible, functional and pleasant for all. In the meantime, our online tool deletes the web formatting tags as much as possible and some layouting options can't be forced, like:
- Align text left or right, center it
- Manually force line breaks and page breaks using Enter, Space,
tags or HTML code "& nbsp;"
- Bold and italic styles, integrate colors
- Change the font
Why Arabic/Chinese/Japanese/Russian characters won't display in my blook?
For now, our online tool only handles Latin alphabet. If you want to create a book retrieving contents from another alphabet, you can create a PDF file according to the method described here !
How do I display the dates of my articles or my comments?
In the "Sort your content" section, click on "more options" to reveal the options available for your blogging platform: Date of the articles, page breaks after each article, comments...
Warning: if your blog is not compatible with the comments import, this option will be absent from the list (and the same thing will happen to other options in the same case).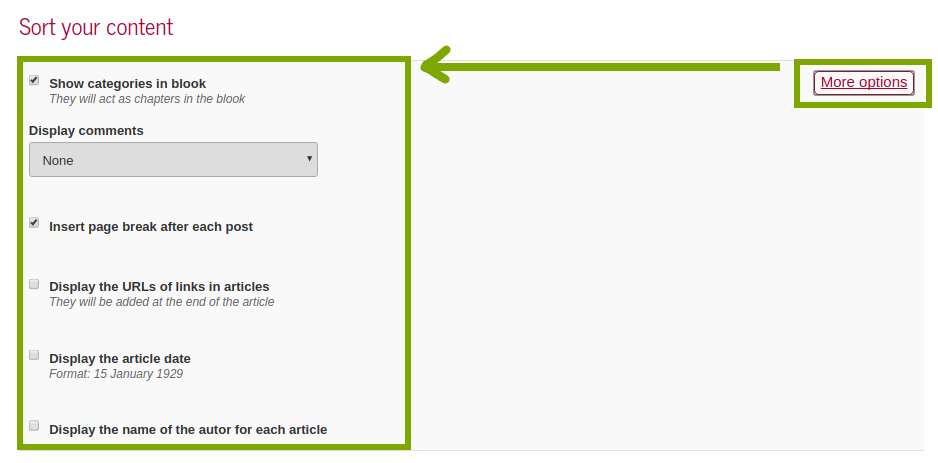 My blog is too long. What can I do?
Blooks must be at least 24 pages long and are limited to 400 pages to ensure their solidity. If your blook is too short or too long, a "Finish blook setting" note will appear next to the informations of your blook and you won't be able to order it until you've increased or reduced the number of pages.
When a blook is too long, BlookUp will show you a partial preview of your book:

Once your preview is generated, you can go back to the content selection step in order to uncheck articles, posts, or categories (see "Can I change the order of my articles or delete some?"). For certain blogging platforms, an alert message will let you know the remaining number of items you have to delete in order to fit the 400 pages limit. If the message doesn't appear, you can use you prevew in order to spot your last entiere article in the blook and then come back to uncheck all the articles after it!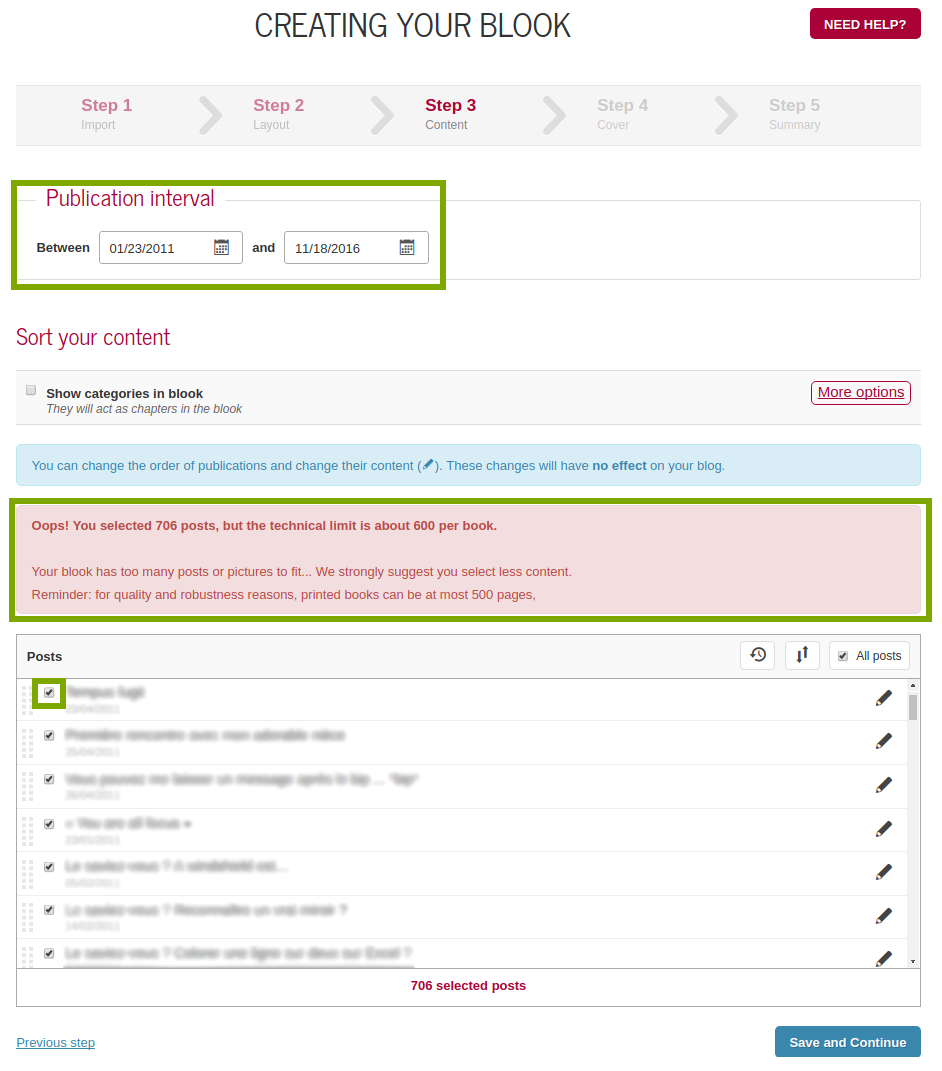 You can also choose to drastically reduce the number of articles by reducing the publication period in order to keep only one year and then create a second blook later, beginning from the end date of your first volume, thus starting a chronological collection of blooks !
How do I create a custom cover?
In order to give your blook your personal touch, you can choose from different cover models or decide to integrate your own image, created for example using image editing softwares such as Photoshop, Photofiltre or TheGimp (free).
This image will completely cover the front of your book and will hide the author's name and titles, but remember to fill the areas anyway so that they will be visible on the back cover and so that your blook will be correctly named when appearing in your account's blooks list.
The resolution of your 100% customizable coverage will depend on the book format:
- "Small format" (15x21cm and A5): At least 885x1240 pixels
- "Big format" (20x27cm, A4 and19*26cm): At least 1192x1554 pixels
If you prefer to use an existing model, you can use the dimensions above to select only the illustrations that are equal or superior to them, crop them with the online tool and thus be sure to obtain a good quality image for your cover!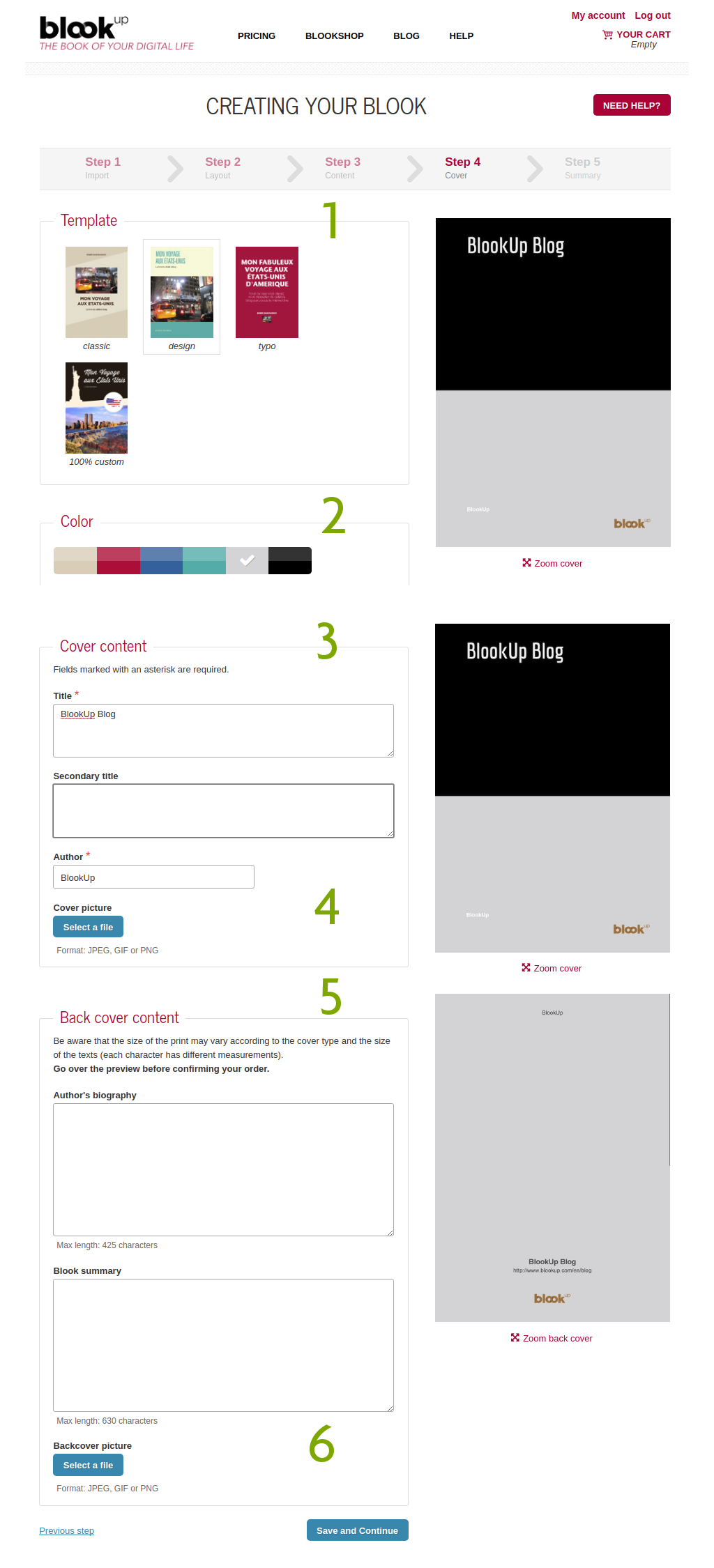 1. Choose your cover model here or the "100% customizable" option to integrate your own cover picture.
2. Choose a color that will represent the spirit of your book!
3. Fill in the title, subtitle and author name you want. These fields are filled by default, so check them!
4. Select an illustration from your computer to include it in an existing template or as your custom cover image.
5. Write your biography and the summary of your book: Pay attention to the number of characters and to the preview, make sure that everything appears on your preview!
6. Select an image from your computer that will be used as a author's portrait for your back cover.
Orders
How do I order a blook? Can I order a blook multiple times?
When you create a blook, it remains saved in your account. Click on the "Order" button located just below your blook to order it in paper or digital format, by clicking on "Add to cart". It is possible to order the same blook several times by repeating this same operation, and you can of course add other blooks in your carts.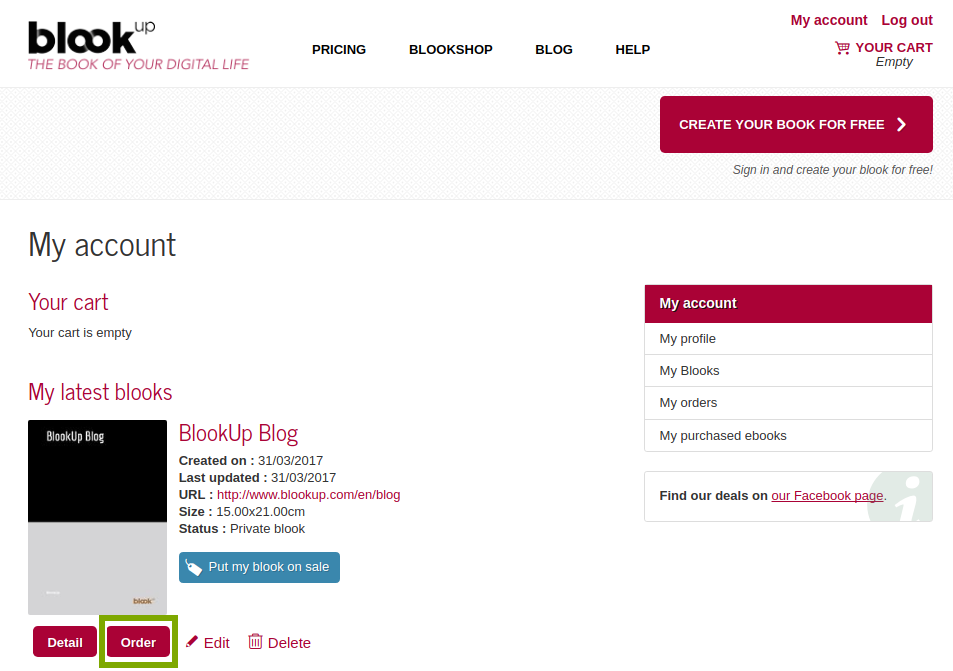 Warning !
- The digital version is free and automatically added to your cart for any purchase of the paper version, except for Facebook, Instagram and PDF books.
- An ordered blook cannot be modified anymore, so make sure you have checked the preview before ordering!
How do I check and validate my blook before ordering it?
You can access the preview of your blook at the last step of the creation and customization process. At this point, you can always modify your blook by going back through the personalization steps, then come back to the last step in order to generate a new up-to-date preview taking your last modifications in account.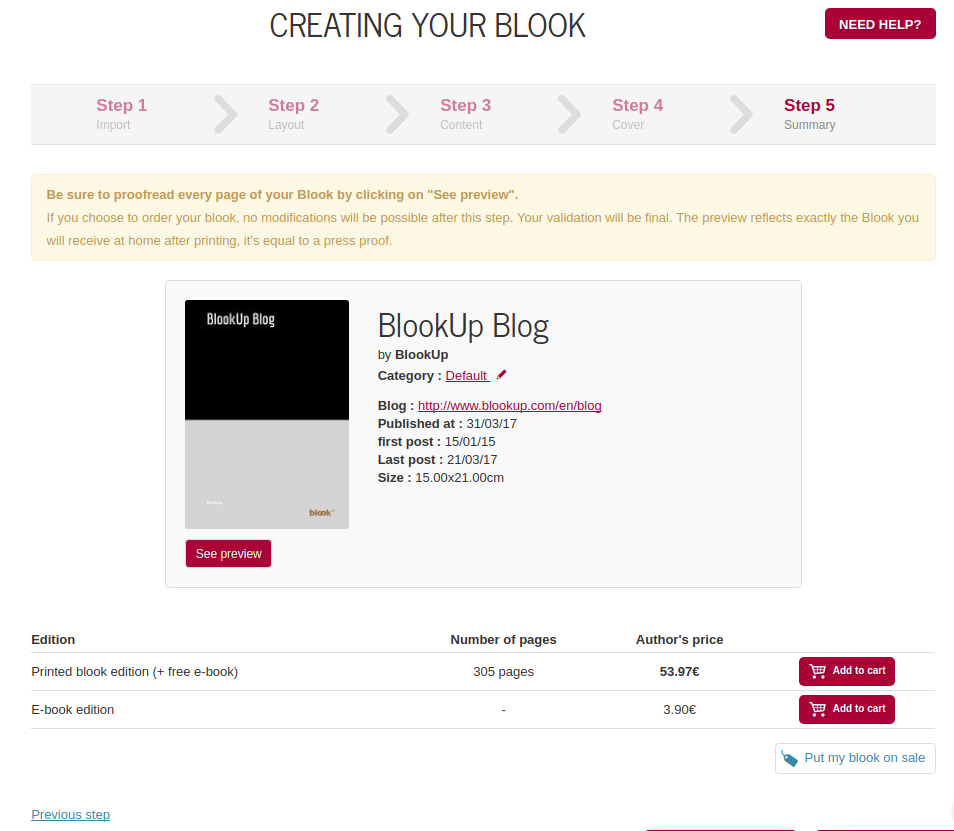 Checking the preview of your blook in detail is very important. This document is the equivalent of a press-proof and will help you make sure that every page of your blook matches your expectation. Once ordered, a blook's files are "frozen" and can not be modified!
I've placed an order but I want to modify my blook, is it still possible?
As long as your blook is in your cart, you can modify it by removing it from the cart. Once your blook is ordered, however, no modification can be done. You can preview your blook as many times as you want and contact our customer service if you need help or encounter issues on your blook before ordering.
In accordance with our Terms and conditions of sale: "All sales of Books and other products are subject to the return policies of BlookUp then in force, each book you order is made individually and printing is customized. Of article L.121-20-2 of the Consumer Code, you can not benefit from any period of withdrawal to cancel your order" (Article 9 - Right of withdrawal).
If you want to change the content of your blook after finalizing an order, or correct your delivery address, you must contact our customer service as soon as possible to inquire about the status of your order and the possibility of making your modifications (see also our Terms and conditions of sale, article 10 - "Resolution or Termination of the order").
How do I download my ebook after ordering my blook?
In your account, click on the blook you ordered (or click on the "Details" button) to access the download page. The 3 buttons displyed here correspond to the 3 digital formats of your blook: "PDF," "EPUB" and "MOBI".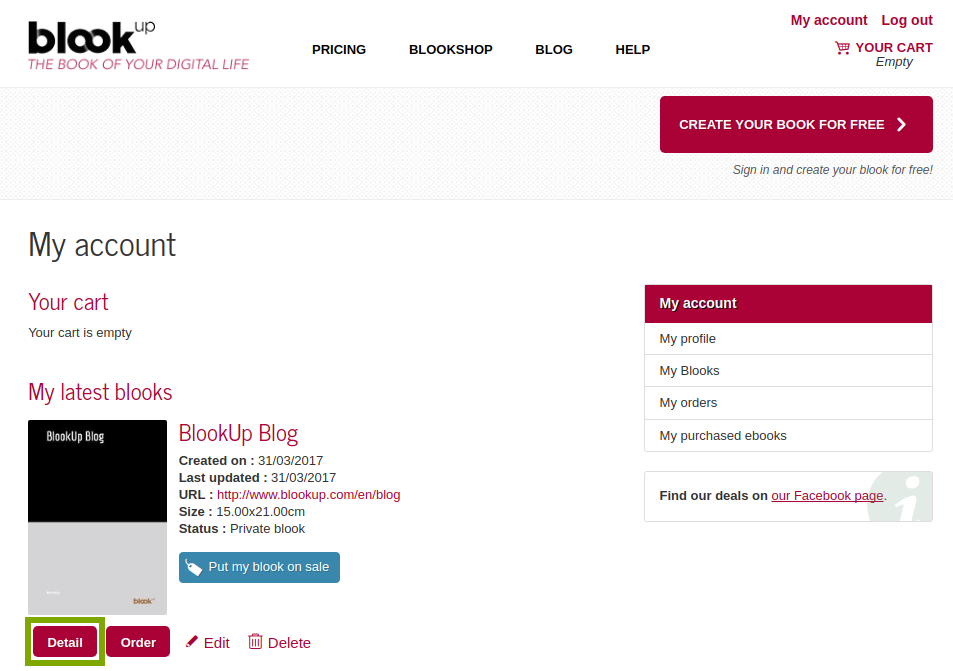 Sharing and selling blooks
What is the difference between a private and a public blook?
When you create your blook, its default status is "private": You are the only one who is able to see it and who can order it from your personal account.
You can choose to make your blook public and share it on the Blookshop, our online bookstore, by clicking on the button "Sell my blook". You can sell your blook in both paper and digital formats!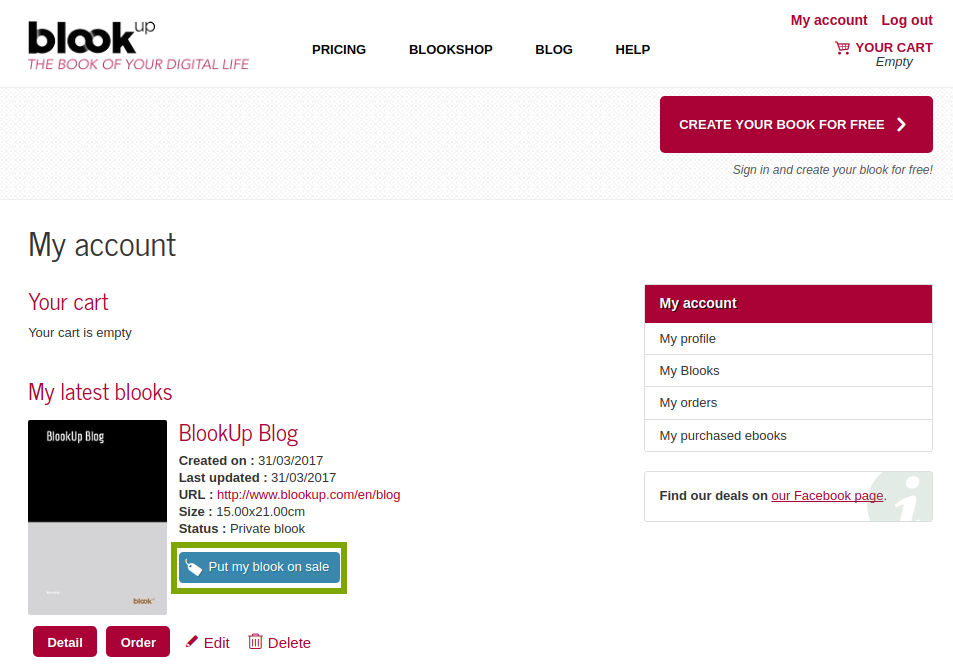 The sale / share of a blook is not definitive and you can choose at any time to make it private again.
How do the BlookShop and selling blooks work?
By deciding to make your blook public and therefore to put it up for sale, you must choose its category (1) and its selling price. This price consists of a fixed part, which corresponds to the initial price of the blook (2), and a flexible part, corresponding to your margin (4). The two prizes add up to form a total prize (3), the one that will be paid by the people interested in your book. Each seller is free to choose his or her margin.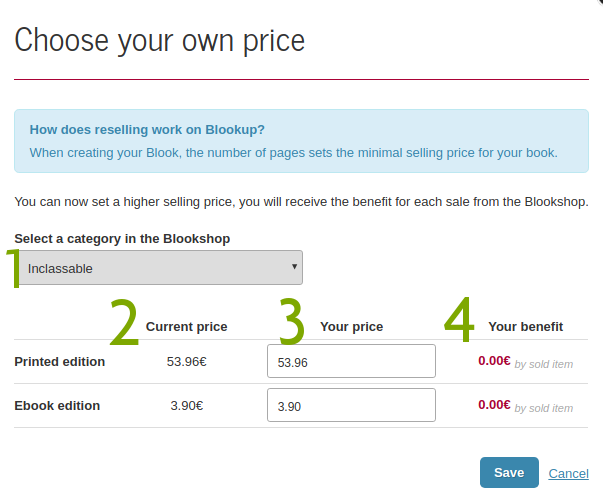 BlookUp's retrocession system is not automated yet, so we give you a check on demand or execute a bank transfer when your accumulated margins reach 10€. You always retrieve the totality of your accumulated margins.
Only our team has access to sales information (number of blooks sold, dates and price, as well as the total amount of your accumulated margins) and you can contact our customer service whenever you want to get an update on your sales and decide when you want to recover your due. An invoice will also be sent to you.
Does BlookUp take care of my blook's advertisement and referencing (ISBN number)?
No. Since our books are not destined to be printed in thousands of copies and / or to be sold by distributors (or referenced in documentation centers or libraries), and since their content remains mainly private, they therefore do not require an ISBN number.
BlookUp keeps your book publicly available on its website, in its online library, the Blookshop: As such, your book will be naturally referenced on online search engines and will benefit from the visibility of the BlookUp website when users will search for your book on the internet.
On the other hand, if BlookUp can occasionally share on its social networks the links to some blooks appearing in the Blookshop, it will not conduct any active promotional campaign in favor of one blook or another. Sharing your blook's public link and promote it to your audience is totally up to you.
Click to discover how to promote your blook!
How do I protect my contents as an author ?
For each book, it is the author / blogger who creates its own cover with its title, name, image. The mention "All rights reserved [Name of the Author]" on the 2nd page of the book will automatically be added in order to credit the author / blogger.
Unlike in traditional publishing, blookers are and remain owners of their contents and copyrights. Blookup can't be held responsible for the contents published and does not deposit any content on behalf of the authors.
For more details about copyrights, do not hesitate to consult our Terms and Conditions of Use (parts 7 and 8).