Okay, we saw great books, that's good. But when large books are not buildings themselves, we must put them in large libraries, right?
The National Library of France ("Bibliothèque Pierre Mendes France" or "BNF"), in Paris, seems to be the right place to house collections gathering nearly 14 million books and prints, and increasing approximately of 670,000 documents per year!
This staggering number is divided over two locations: The historic Richelieu library, on Vivienne Street, and the François Mitterrand library, near the Seine docks.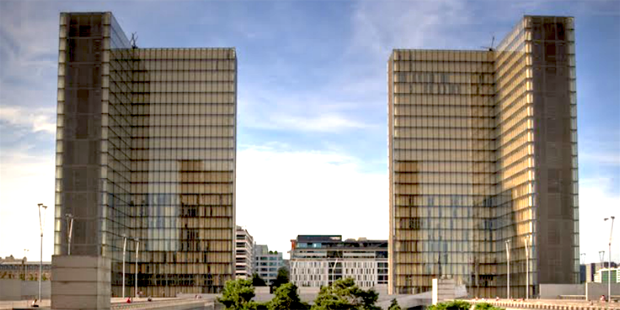 4 buildings like this, designed by architect Dominique Perrault, store millions of valuable documents on the east side of Paris.
photo credit: Inathèque
_____________________________
These collections include several million periodicals, about 250,000 manuscripts, 2,500 vellum and 10,000 medieval manuscripts (making it the largest library in the world for this kind of documents), maps, prints, photographs, scores, coins, medals, audio, video, multimedia or digital (16.5 billion URLs), objects and artefacts, costumes, scenery …
The BNF is also increasingly known for its digital library, Gallica, which provides access to the reproduction of more than 3.4 million documents in texts, images or sounds in order to save documents that were too damaged to be consulted or which have to be saved in emergency because their data were about to be lost forever.
At the Tolbiac library, the reading rooms are located on the ground floor. When a reader wants a book, he must introduce his library card into an electronic reader, choose the book he wants and order it. The book is delivered about half an hour later, after the library staff working on the upper floors put the ordered books in automated guided vehicles and sent them to their future readers.
The reading rooms of the BNF: Left, the Oval Room of the Richelieu site; On the right, the Ground Garden Site Tolbiac.
photos credits: Vincent Desjardins
_____________________________
We are sur all this makes you want to read! But to avoid dizziness, it's best to start with your holiday memories turned into a blook!