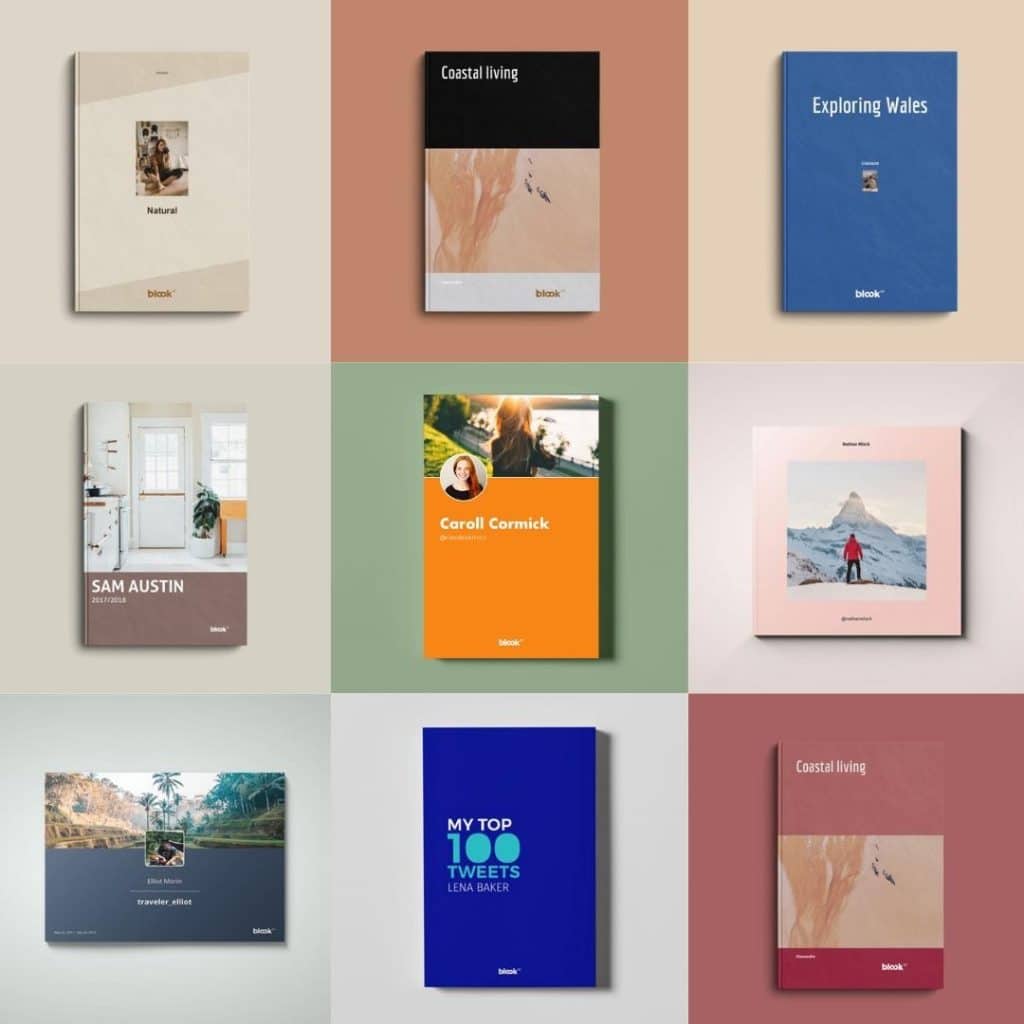 Photo book lover. You've got a yearbook on the shelf, a vacation photo book, a wedding photo book, a pet photo book and just about every photo book. What's left to fill the shelf?
There are tons of photo book ideas out there just waiting to be put to use. It's all about not being afraid to try something a little different. To help you out, we've come up with a few photo book ideas you may not have thought of.
The Instagram book
Our Instagram photo book, with its clean and elegant aesthetic, puts the spotlight on the image and allows you to lay down all your best photographs on satin paper. Choose the publication period you're interested in and select the photos you want to save, customize your cover and, in a few minutes, get the most beautiful photo album of your social life on Instagram!
The book of your Facebook fan page
Some photo book ideas you didn't think ofTo make your Facebook fan page, you have to send us by e-mail sav@blookup.com or by the "help" tab on the right:
the URL of your Fan page.
the date you want to start your book.
Don't forget to create a BlookUp account, it's free, we will upload your book within 24 hours.
Whether you are a freelance community manager, a company, a brand, or simply a creative person, you have built a solid image and identity thanks to your Facebook page. Showcase your work in a unique way: Print your Facebook posts in less time than it takes to say "I like"! Get all your statuses, photos, videos, places visited, as well as the number of likes, comments and shares obtained for each of them, over the period of your choice.
Select the content you want to save, customize your cover and interior layout (in 1, 2 or 3 columns) and here is your work transformed into a personalized book faithfully transcribing the spirit of your Facebook Page 🙂
The book of the 100 best Tweets
You already know your Twitter statistics by heart, but do you really realize what your followers like about you? We have the perfect book for that: Your Top 100 Most Liked Tweets!
This Twitter colours-inspired book will rank your tweets depending on the number of likes and retweets your community gave them, from 100th to 1st in order to keep the suspens alive until the last moment. Choose the period of time you want to rank the posts from, and we will automatically lay out for you the tweets (back as far as 3,200) your followers loved the most so you can have them saved and printed!
The PDF book
Lay out your content thanks to your favorite software, convert your document to a PDF file and upload it to our website, customize your cover and there you go! All you have to do is print your PDF on quality paper, in an A5 format made to showcase your most dense works.
Wether you are a writer, a composer, an institutional redactor, a comic author or simply having a very precise idea of what the perfect layout looks like, the Book of your PDF is made for you!
The book of your blog
Whatever blogging platform you chose, you spent several hours polishing your articles, refining your pictures, sharing passions and life moments. Blogging is a full-time job that deserves being immortalized, and nothing will do it better than the book of your Blog!